Andy Kim, U.S. Representative
A fun day for all, and a fundraiser for the scholarships we award to Ocean County's best students each year. Join us August 29th at the Bey Lea Golf Course in Toms River for our 28th Annual Scholarship Golf Classic. Find all you need to know in our brochure. Click here.
Wanna win $5,000?
As a companion fund raiser at our annual scholarship golf outing we offer 50/50 raffle with 100 tickets at $100. each. The winner will receive 50% – $5,000 – if all tickets are sold. You need not to be present to win. This has been a sold out raffle over the years.
If you would like a ticket please email to [email protected] and let me know what number you would like and what address I can mail it to. I will mail the ticket in a self-addressed stamped envelope. You will need to return the completed stub and a check or money order payable to OCMA. Please note, tickets (#'s) will be distributed on a first come-first serve basis. And remember, you'll be helping Ocean County students at the same time.
New Jersey's 3rd Congressional District
Rep. Kim discussed his priorities for the district, stressing the preservation of Joint Base as a working military installation. He suggested that use of the base could be expanded. Given his seat on the House Armed Services Committee and experience working in the Pentagon and the National Security Council, Kim was asked what he regarded as the greatest threat to American security. The congressman cited Iran and North Korea as troubling but said he regarded China as the greater, long term threat because of its aggressive growth and antipathy to democratic values.
Jersey Central Power & Light Steps Up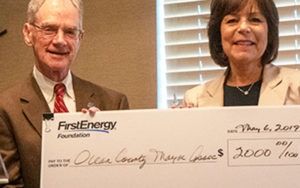 Just before the meeting, Maria Sessa of JPC&L presented Mayor Curtis of Bay Head with a check for $2,000.. JCP&L will be a Gold Sponsor for our 28th Annual Scholarship Golf Classic on August 29th at the Bea Lea Golf Course in Toms River.
The Ocean County Mayors' Association has been found tax exempt by the IRS. Donations are deductible. Documentation of this determination and related financial disclosure documents are available for public examination. cir