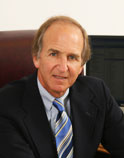 On Tuesday, April 8, 2008, the Ocean County Mayors' Association will hold a business meeting. Our guest will be New Jersey State League of Municipalities Executive Director William G. Dressel. See "meeting information" at the bottom of this page.
Commissioner Doria: All Municipalities Will Share State Budget's Pain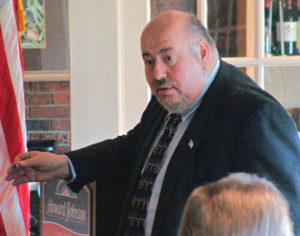 Joseph V. Doria, Jr., commissioner of the Department of Community Affairs, told Ocean County's mayors that the state is going on a pay-as-you-go basis, which means budget cutbacks and less state money for municipalities. A question and answer session at the March 18 meeting of the Ocean County Mayors' Association touched on numerous issues, including affordable housing and court decisions state government must follow. On the subject of small municipalities under pressure from the state to share services or even merge with larger neighbors, the commissioner noted that the subject of state aid on a per capita basis was a "good issue." As commissioner, Doria oversees the Divisions of Local Government Services, Codes & Standards, Community Resources, Housing and Fire Safety, as well as the Division on Women, the Office of Smart Growth and the Center for Hispanic Policy, Research & Development.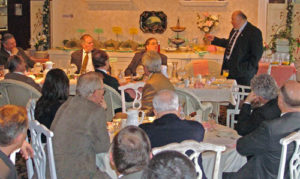 Commissioner Doria (standing) answers mayors' questions.
Mayors Declare April Autism Awareness Month
By unanimous voice vote, the Ocean County Mayors' Association proclaimed April as Autism Awareness Month. For the text of the resolution, click here.
Meeting Information
Meetings are held at the Legend Restaurant adjacent to the Howard Johnson Hotel at 955 Hooper Avenue, Toms River, New Jersey. Registration begins at 8:30 AM.
There is a $15 per person meeting fee. Payment receipts available upon request at sign in. Seating is limited to 50. Kindly RSVP . Contact April Elley at the Borough of Island Heights, telephone (732) 506-6659, fax (732) 506-9085, email [email protected]. Pease indicate number of attendees, and names if possible. Of course, members may bring guests.
Join Us in May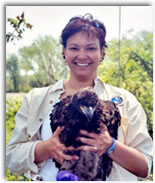 At the meeting of the Ocean County Mayors' Association on Tuesday, May 6, 2008, our guest will be Commissioner Lisa Jackson, N.J. Department of Environmental Protection.