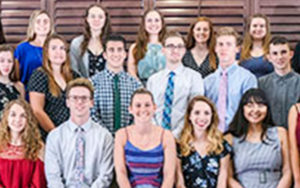 This is what your Golf Classic participation supports.: these are the OCMayors scholarship winners for 2018 at the awards breakfast, in Toms River Thursday, May 24.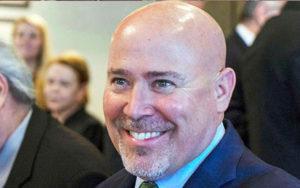 Tom enjoys breakfast with the mayors.
In his talk to the mayors, Rep. MacArthur noted his concern with the U.S. budget deficit and defended his vote in favor of last year's tax cut, pointing out its benefits for New Jersey.
He is working in Congress to deal with the heroin/opioid crisis across the nation, he said, adding that Ocean County is particularly hard hit. We should pay whatever a solution might cost; it will be cheaper ultimately than the current costs opioids impose in health care and criminal justice, Tom said.
Commenting on President Trump's decision to pull out of the Iran nuclear agreement, Tom voiced his support for the move, explaining the current pact does not address the issue of ballistic missile development, which Iran is free to pursue under the current agreement.
Tom also reaffirmed his commitment to bipartisanship on important national issues.
JCP&L Sponsors OC Mayors 2018 Golf Classic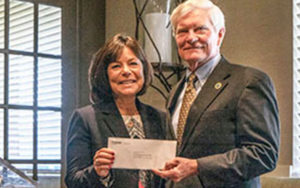 Here, Maria Sessa of Jersey Central Power & Light presents a check for $1,500 to Robert Matthies, Mayor of Seaside Park and Second Vice President of the OC Mayors' Association. JCP&L is now a Silver Sponsor of the 2018 Ocean County Mayors' Golf Classic – Scholarship Fund
Mayors Oppose Legalization of Recreational Marijuana
The Association passed a resolution against marijuana legalization in New Jersey. You can find it here.
The Ocean County Mayors' Association has been found tax exempt by the IRS. Donations are deductible. Documentation of this determination and related financial disclosure documents are available for public examination. cir