New Jerse Division of Local Government Services
Jason Martucci is the legislative liaison for the New Jersey Division of Local Government Services. Jason stood in for his boss, Division Director Tim Cunningham who was originally scheduled to speak. As you might expect from his title, Jason provided the mayors an update on actions in the New Jersey Assembly and Senate that will affect municipalities.
Freeholder Director Joe Vicari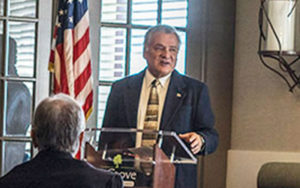 Freeholder Joe updated the mayors on a number of fronts, including the budget restraints of the the 2% cap. Joe's message to mayors besieged by requests for more money: "Learn to say no." Then Joe kicked off a lively discussion on New Jersey's bail reform that kicked in last month. Among those who spoke against the reform were Brick Mayor John Ducey and Barnegat Committeeman John Novak. The discussion ended with a consensus on the need for changes. The mayors passed a resolution to that effect by title.
The Ocean County Mayors' Association has been found tax exempt by the IRS. Donations are deductible. Documentation of this determination and related financial disclosure documents are available for public examination. The Ocean County Mayors' Association has been found tax exempt by the IRS. Donations are deductible. Documentation of this determination and related financial disclosure documents are available for public examination without notice.Note: When cir