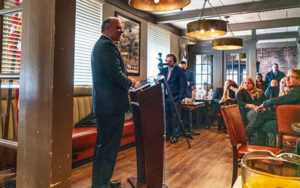 On his second visit with the Ocean County Mayors, Sen. Sweeney – Steve to his friends here – brought a flurry of protesters outside and record attendance inside. The senator first spoke to the Mayors in June, 2015. Then he spoke mainly about the state pension system and the state's Transportation Trust Fund. This time, the main subjects were school funding and the more volatile issue of vaccines. Sen. Sweeney supports a bill to limit religious exemptions from childhood vaccine requirements. A companion bill was approved by the N,J. Assembly but the Senate declined to vote in a session last month as anti-vaxxers demonstrated outside the statehouse. The senator promised to bring the bill up for a vote this month, a move that motivated many of the protesters outside today. In the meeting, two attendees spoke against the bill. Sen. Sweeney defended his position.
On state funding for local schools, the senator was asked about the school funding formula and how it worked. Sen. Sweeney explained he does not have access to the formula which is maintained by the Department of Education but kept from the public.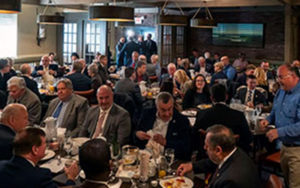 The Grove restaurant was packed at our best-attended meeting in memory. In the background by the entrance, Sen. Sweeney holds an impromptu news conference with reporters from News 12 New Jersey, among others.
The Ocean County Mayors' Association has been found tax exempt by the IRS. Donations are deductible. Documentation of this determination and related financial disclosure documents are available for public examination. cir